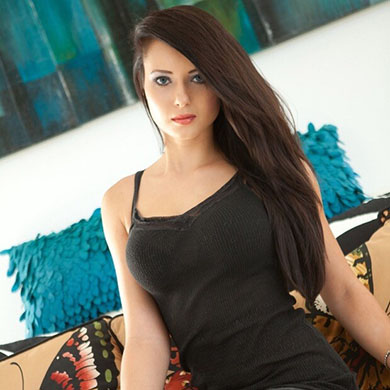 Petra looks sweet and innocent enough to be just a typical girl-next-door, doesn't she? Those lovely long dark hair, big puppy-dog eyes, sweet smile… Would you guess this baby faced angel is a star of numerous gang bang productions and just can't get enough of them? Believe it! Petra is so insatiable and wild, that she feels best when joined by at least two men. She is a queen of submission and a really good, obedient girl ready to take your orders. You can even play it a bit rough and she'll still take it with a great big smile, thank you nicely and ask for more.
So, how is it going to be, do you have a friend to invite to play a feature in your production? Maybe even a group of friends to be the support acting team to Petra and you – the lead roles in this gang bang scenario? If you prefer to be with a girl one-on-one, don't worry. Petra could still be a great choice for you. This talented starlet is more than flexible and can play any role you prefer and give you a taste of BDSM or GFE. Your choice!
Cast Petra in a gang bang porn!